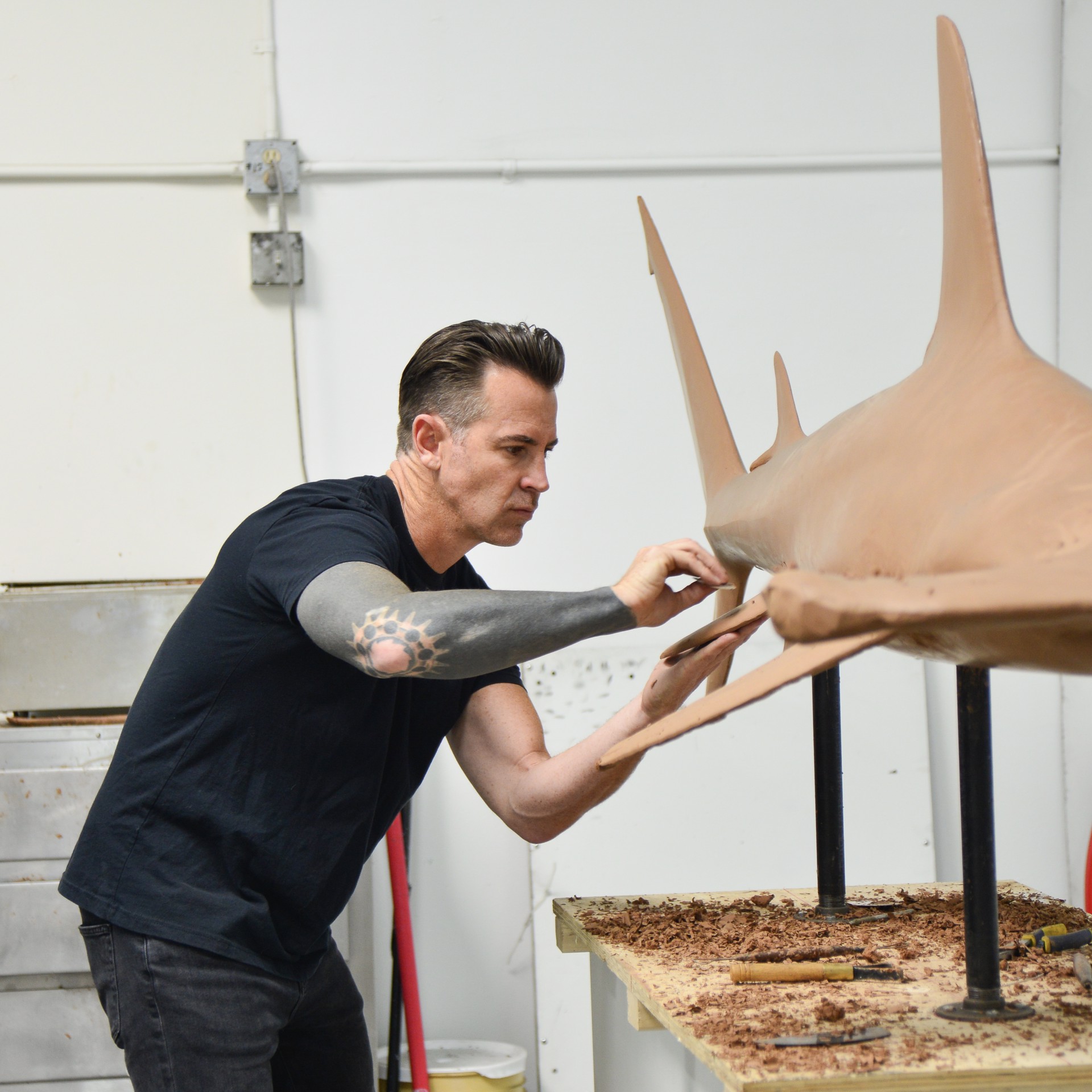 (American, b. 1974)
Southern California based artist, Christopher Schulz, works in multiple mediums to create his sculpture. With an eye for form and geometry, Schulz sculpts a variety of subjects, from elegant animals to intricate machinery. Despite the variety of his subjects, a common thread continually binds his work: his concern with evoking a visceral experience for the viewer through his art. Motivated by an impulse to engage his audience in a sensory exploration, Schulz is interested in weaving his personal experience into his works of art through familiar imagery that emotionally resonates with the viewer.
Well trained in the traditions of contemporary sculpture, Schulz consistently pushes the envelope and evolves his creative possibilities by utilizing cutting edge tools and technologies in the production of his original works. He has become well-known for his eye-catching shark sculptures, which he creates using marine-grade stainless steel. The stunning material that Schulz uses compliments the striking geometry of sharks, and evokes themes of power, machinery, and predator vs. prey. While constantly aspiring towards artistic innovations, Schulz maintains that "a significant work of art should never lose its aesthetic value."
Schulz's work has been exhibited both nationally and internationally and is widely sought after by collectors worldwide. With works being acquired by entertainment and technology moguls as well as Art Museum Directors, he has also been commissioned to create original works for such companies as HBA design group, BP Oil, Transocean and Isuzu. His work can be seen in public settings from Houston, TX to Tiachung, Taiwan. Additional exhibitions include International Art Fairs from New York and Miami to Palm Springs and Los Angeles.
Read More